Sonic Formation
Sonic workshop
Thursday 8 + Friday 9 September
Cap Sonic/le manège.mons and City Sonic/ Transcultures propose together two days of presentations/debates/round tables with musicians, curators, sound engineers on various issues of sound ecology and sound art today.
Featuring :
Antoine Maisonhaute (Musiques Nouvelles) – round table on sound and contemporary music
Philippe Franck (director City Sonic and co-curator of Cap Sonic) and Anne-Laure Chamboisier (City Sonic guest curator) will present some of the festival and sound art issues followed by a guided visit of the City Sonic sound itinerary
Daniel Léon (sound engineer, teacher at INSAS) lecture on sound volume excesses today
Jean-Paul Dessy (le manège.mons/ Musiques Nouvelles) presentation of his personal open vision of "contemporary music"
Gilles Malatray (musician, sound designer) with a workshop on sound ecology to raise awareness of hearing and its urban environment
Impala Utopia (young multimedia-design-sound artists) present Bumpers their mobile DJing performance in the city and their interdisciplinary site specific approach
Jacques Rémus (sound artist & inventor) on his installation Le Carillon n°3 (shown on the Grand'Place) and his vision of sound art.
And surprises !
Impala Utopia (Be/Fr): Bumpers
Nomadic/participative DJing in the centre of Mons
For the Bumpers presentation in Mons, the Impala Utopia young interdisciplinary artists (for Mons, Jérémie Boyard/DJ B Side, Colin Ponthot/MC Mute, Mathieu Schmidlin/DJ multicolor) build a DJ customized delivery tricycle which will stop in various locations (surprise!) of the city inviting local DJs and musicians to mix and to jam with the friendly crazy Impala Utopian audio pirates.
Presented by Cap Sonic and City Sonic Production: Impala Utopia, Transcultures/City Sonic
Jacques Rémus (Fr): Carillon n°3
Grand' Place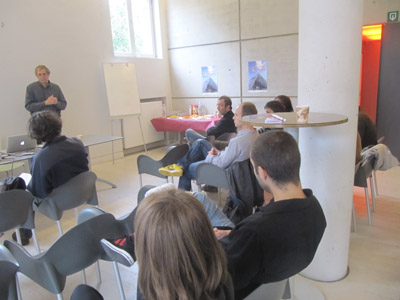 40 huge tubes are hit or smothered by electro mechanical systems play a bell sound controlled by a computer. The cylinders hanging above the audience and protected by small umbrellas, play pre recorded scores (such as the traditional Mons song of the Doudou); they can also react to interactive systems thanks to a music camera invented by Jacques Rémus, who is an important figure in the French and international sound art world.
Infos
A detailed programme of the workshop can be send to the participants two weeks before.
This workshop/meeting is limited to 15 people
Inscription
via mail This e-mail address is being protected from spambots. You need JavaScript enabled to view it
Meeting place: Passeurs de Cultures
Rue de la Seuwe 16 – 7000 Mons
Passeurs de Culture is a European Social Fund project