All the Transcultures' team thank you for this successful ninth edition.
Next date : the 10 years of City Sonic !­­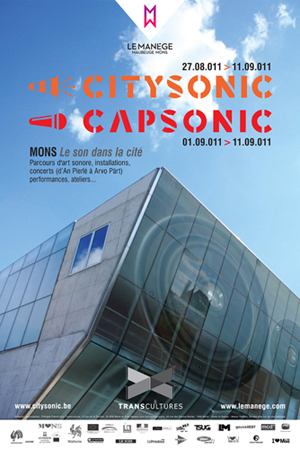 « I create a musical space with my images. with my music, I create an imaged space. The images and the music (…) meet with the spirit of both the viewer and the listener and inside there is always something which comes out of it » Rolf Julius
City Sonic#9, sounds installed in the city
Rescheduled since 2010 at the beginning of the cultural season parallel to our partner festival Cap Sonic organised by le manège.mons, City Sonic, conceived by Transcultures in collaboration with the cultural service of the City ofMons, continues to explore, with passion, the various forms of sound art.
City Sonic features a sound itinerary (installations, lounges,…)which goes from the Salle Saint-Georges (Grand Place) to theMaisonFolievia the Machine à eau (Water Machine), the médiathèque and the BAM (Fine Arts Museum of Mons) featuring more than 50 installations, environments, audio lounges imagined by Belgian and international, young and reknown artists. In the main location of the ancient Slaughterhouse (grandehalle du site des Abattoirs) we will propose an exhibition on the « object-sound » linking visual arts and the representation of sound sometimes without sound
City Sonic features also a selection of sound works by students of various Belgian and French art schools, partners of those « sonic emergences » (ESAPV Mons, ENSAV La Cambre/Brussels, ERG/Brussels, ESAD Strasbourg, ENSA Bourges… and LeFresnoy/Tourcoing). Those promising projects are shown among other playful, interactive, poetic site specific works which are sometimes created or readapted. This edition also presents more performances (like the Transonic 'made in Belgium' concerts orthe Sonic Archipel live sets,…) thanks to our extended collaboration with Cap Sonic.
This City Sonic 2011 is dedicated to Rolf Julius, German master of the sound creationand Ira Cohen, New York poet/mythographer, both recently departed to explore other sonic universes. Like the sonic adventurers who participate to the City Sonic experience, they open the doors of perception, fighting for the essential difference.
Good alter listening !
Philippe Franck, director & curator
Anne-Laure Chamboissier, guest curator

In collaboration with Cap Sonic