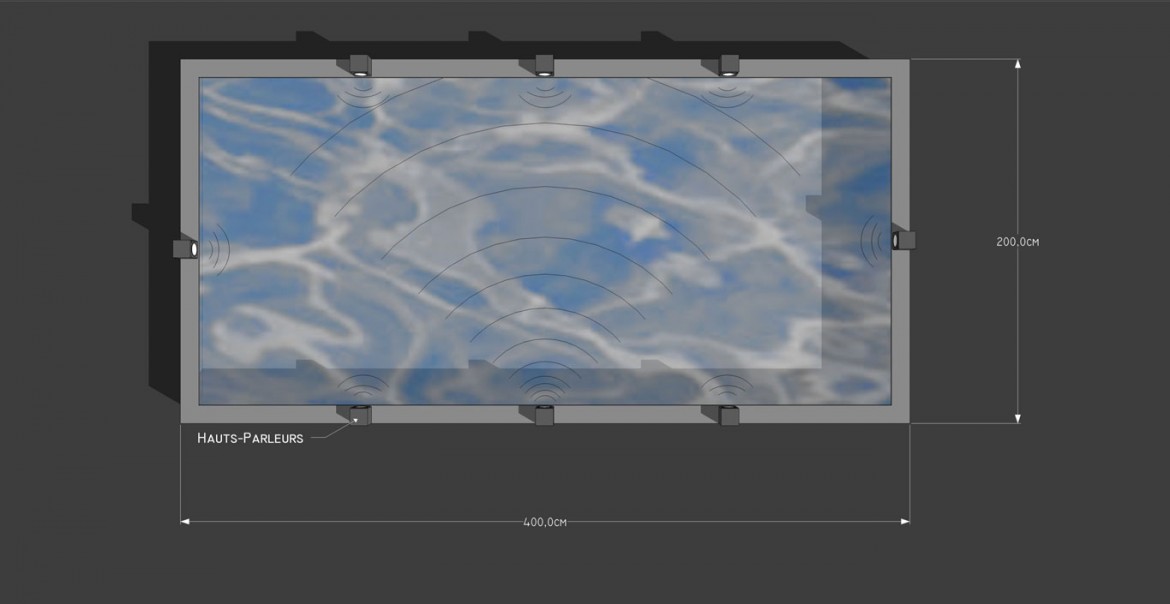 Echo System - installation
ouverture : 11.09.2014
expo : 12 > 27.09 – fermé les lundis
Site Arbalestriers
18:30
12:00 > 18h00
Entrée libre
Echo System - installation
ouverture : 11.09.2014 – 18:30 expo : 12 > 27.09 – 12:00 > 18h00 (fermé les lundis) Site Arbalestriers – Entrée libre
This new installation from Mons sound and multi-media artist explores the relationship between the rippling of water and sound waves. Eight speakers are placed around a small pond, with a computer-controlled striker under each one.
The basic principle of this installation is to trick our brains into perceiving the percussive sounds coming from the speakers as creating an impact in water, sending ripples across the pond which themselves give birth to sounds in motion, thanks to the spatializing effect of sound through the various speakers.
In other words, the sound coming out of the speakers follows the motion of the ripples in the pond. In this new experience, this "Echo System", water takes on new shapes thanks to sound.
Winner of Espace(s) Son(s) Hainaut(s) 2014
Strange meeting in an empty space - video
In the frame of the Ordesa National Park, Stéphane Kozik and Julia Hadi who participated in Park in progress meet a dozen artists from Spain and Europe during the Periferias the festival as an amplifier.
Stéphane Kozik ventures into an area where the vultures gather, installs sensors and cameras to imagine a performance with Julia Hadi. Specialist sound design made from in situ recordings, Stéphane Kozik confronts the wild and disturbing nature of this gathering of 500 vultures to discuss the myths that this bird vehicle.
A unique time of experimentation and exchange for this special edition of Park in progress, whose productions have been made in the context of Periferias, dedicated this year to the them of 'the horror'.
Stéphane Kozik
Multimedia, sound and visual artist, musician graduated from Arts², Stéphane Kozik mainly works on interactive installations, audio-visual and musical performances…
His approach intends to be multidisciplinary, sensitive, sensory, poetic and playful. He is the co-founder of multimedia collective Livescape and of the duet Digital Breakfast (with Arnaud Eeckhout).
He also follows a career as electronic music musician and collaborates with Hungarian dancers Julia Hadi and Virag Arany, also with Damien Peron for the project 'Bodyscape' (laureate of European project Park in progress exhibited in Mons during City Sonic festival in 2013).
Anciens Abattoirs - 17, rue de la Trouille, Mons
This post is also available in: French (français)