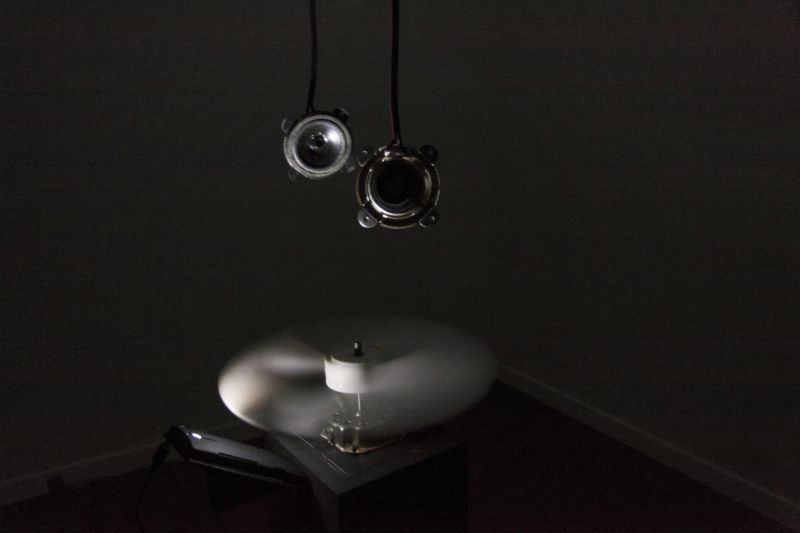 City Live Streaming - installation
opening : 11.09.2014
expo : 14 > 27.09 –
closed on Mondays
Anciens Abattoirs
20:00
12:00 > 18h00
Free entrance
City Live Streaming - installation
opening : 11.09.2014 – 20:00 expo : 12 > 27.09 – 12:00 > 18h00 (
closed on Mondays
) Anciens Abattoirs – Free entrance
This project was conceived during a stay in Germany: not speaking the local language, this sound artist and performer saw his attention to local soundscapes reach new levels.
This installation consists in four speakers facing each other, and spinning under the effect of fans blowing towards them.
Through them, live sounds from around the world are broadcast, streaming from the website of sound art laboratory Locus Sonus (previously featured at City Sonic).
A wild dance of car horns and engines, children laughing and birds chirping then takes place, taking visitors to an undefined somewhere, and urging them to decipher this unknown language.
Adrien Lefebvre
Born in Caen (France), Adrien (Paris) graduated DNSEP with full honors, at école Supérieure d'Arts & Médias de Caen/Cherbourg en 2013. He contributed to several collective exhibitions « Le Chapitre des bifurcations », abbaye-aux-Dames in Caen in 2014 ; « À suivre… 2013 », Esam Caen Cherbourg in 2013 ; « SOUND ∆ WHISPERS », sound installation at Musée des Beaux-Arts, Caen in 2013, which will be displayed for some festivals such as Nordik Impakt in Caen, Fusion in Germany, Court Circuit in Caen.
He also realized several performances as a musician/performer in Paris (Galerie Treize), in Offenbach (Cross Media Night HfG) or in Granville during la nuit des soudeurs. His work arises from the relation between sound, object and motion. By making it soaking, screaming, resonating, his first ambition is to push the object to his most extreme limits. Generally, the audience is directly facing his work, as much as by the brutality of the object as the setting of the place.
Anciens Abattoirs - 17, rue de la Trouille, Mons
This post is also available in: French (français)