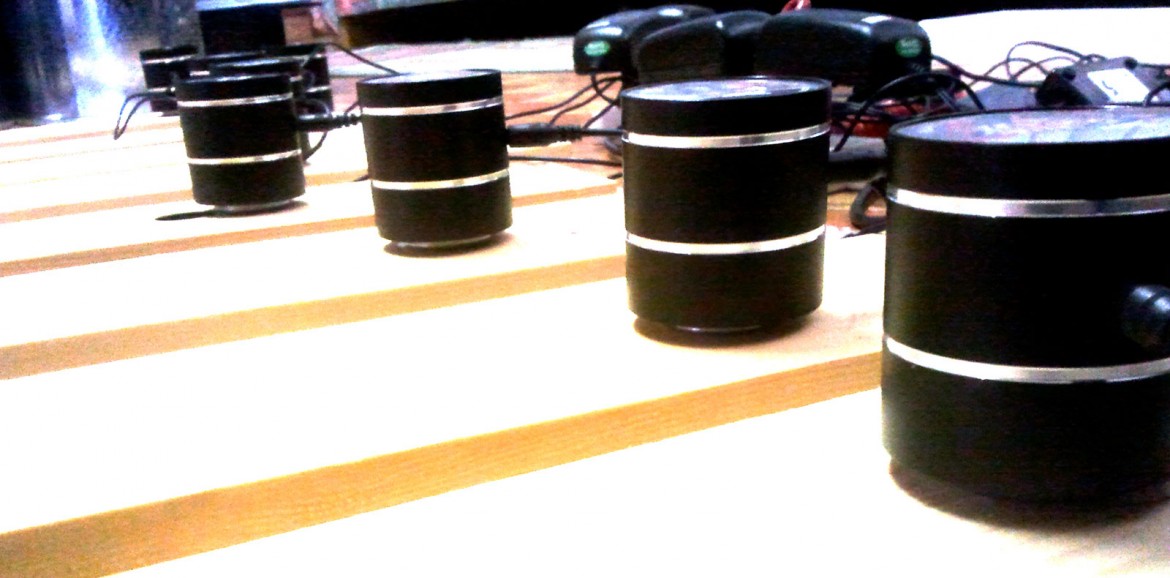 Tactile Sound Research - installation
opening : 11.09.2014
expo : 14 > 27.09 –
closed on Mondays
Anciens Abattoirs
20:00
12:00 > 18h00
Free entrance
Tactile Sound Research - installation
opening : 11.09.2014 – 20:00 expo : 12 > 27.09 – 12:00 > 18h00 (
closed on Mondays
) Anciens Abattoirs – Free entrance
Contact speakers are sound devices wich turn any surface into a resonant instrument. his current research focuses on the possibilities given by the use of multiple contact speakers, thanks to their tactile capabilities: multiple sources of vibration can stimulate our tactile perception in different parts of our body (what I call"spatialization of the tactile sensation"), for example if applied on a chair.
Being able to separately control multiple vibration devices means also to identify spatial implications of sound movement, which opens up the path for an artistic use of the tactile sound system.
His idea is to apply these devices on an object which will let the audience experience the sound through the body. The object can be ready-made (a bench, bed, chair, boat, walkpath…) or custom-made by the artist(s) (wooden structure, metal plates or rods …).
Alessandro Perini
He studied Composition (with Luca Francesconi and Ivan Fedele among others), Electronic Music and Science of Musical Communication in Italy and Sweden.
His artistic production ranges from instrumental music to audiovisual and light-based works with a particular focus on the relationship between the sonic and the visual perception.
His compositions have been played in Italy and abroad in festivals such as Biennale di Venezia (Italy), Festival Futura (France), Open Spaces (Germany), Connect Festival (Sweden), Procesas (Lithuania), UNM 2012 (Iceland), Moscow Forum (Russia), Tempus Fugit (Argentina). In summer 2014 he was in residence at Fondazione Spinola Banna per L'Arte and he took part in the Darmstadt Ferienkurse with different tactile sound projects.
Anciens Abattoirs - 17, rue de la Trouille, Mons
This post is also available in: French (français)