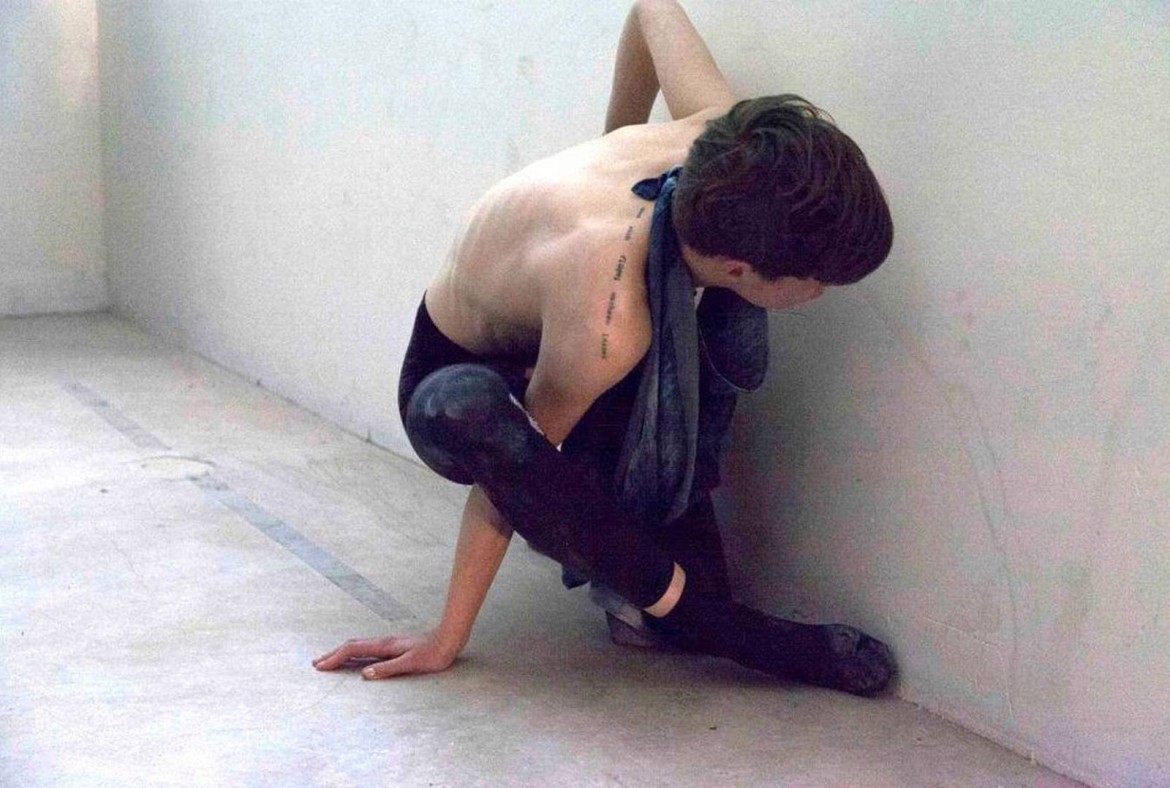 Sans titre - performance
opening : 11.09.2014
expo : 14 > 27.09 –
closed on Mondays
Anciens Abattoirs
20:00
12:00 > 18h00
Free entrance
Sans titre - performance
opening : 11.09.2014 – 20:00 expo : 12 > 27.09 – 12:00 > 18h00 (
closed on Mondays
) Anciens Abattoirs – Free entrance
Both Jason Van Gulick and Anna Gaïotti have a field of their own, and, each in their own way, are contemporary performers showcasing their bodies and their productions.
Jason and Anna aim to create a dialogue between their respective fields and produce a piece of work that will make the body resonate with sound and movements. An amplified timpani, percussive yet atmospheric and ambient, helps give birth to a performance that is raw, tribal and captivating in its density.
Just like an orchestra on the edge of a circus ring, the musician guides the performer. A circle of lights marks the limits of the stage where the dancer will develop a slow, ecstatic movement, a feverish exercise in balance consuming itself in loose yet controlled gestures.
Jason van Gulick
Born in Reims (France), Jason Van Gulick (drums, percussion, composition), lives in Brussels since 2009. Following the paths made by Fritz Hauser, Lê Quan Ninh or Chris Corsano, he asserts through his solo projects, his position as a drummer and a musician. The exploration of space spreading sound and the stage play of the musician place in relation with the audience have become recurrent themes in his projects.
He studied Architectures and was taught the techniques of entertainment industry; which allow him to enrich and organize his own artistic work. Over the last 20 years, he has built a very diverse musical background. Coming from hardcore music, to extreme rock and post-metal, he navigates through improvisation find his marks in electro acoustic experimentation, being nowadays influenced by contemporary music. Since 2004, he develops with Gilles Gauvin (Fr/Lille), a cross-disciplinary project named « Déga ! ». In 2008, he worked with Carla BOZULICH (Constelation/US) for several long tours in Europe.
In Belgium, he participates to project YERMO (Be) with sound artist from Yannick Franck Lièges. He composed the soundtrack of the exhibition UNGROUND by artists Gast Bouschet and Nadine Hilbert for the Centre d'Art Contemporain Casino Luxembourg in collaboration with Stephen O'Malley (December 2012 – January 2013).
Since the creation of his first solos in early 2011, he made forty concerts or so in Europe and shared the stage with Collin Stetson at Grand Mix in Tourcoing, Chris Corsano during the festival « Drumming » in Madrid, Stephen O'Malley at Casino Luxembourg.
Anna Gaïotti
Throughout her path and artistic, critical and arts literature experiences, Anna Gaïotti (Paris)built a figure of peculiar and honest performer, with strong personal interpretation, setting the bases of her scenic work. The clown symbolizes for her a sexual living abstraction which drives her away for theatrical role and allows her to inject grotesque in her erotic and raw poetry. She composes her dance with linguistic games, attractions from a body distort by noise (voice, tap-dancing and drums), the duality between the outfit and nudity, and a constant work of improvisation.
Her body is magma: a land of frictions and negotiations between emotions and obsessions, the theater in which, on which words, skills, instabilities and crisis are playing, registering then the body in another frame. She focuses her practices and researches toward performance that she intrinsically links to fashion and writing. She graduated from l'Ecole nationale supérieure des Beaux-arts of Paris in 2009. Her physical commitment leads her to contemporary dance, improvisation techniques and somatic practices. In 2012 and 2013, she integrates a training and a master degree dedicated to choreographers authors, Essai, at CNCD in Angers and Université Paris 8. In 2014, she obtains the scholar DanceWeb from the festival Impulstanz à Vienne.
Anciens Abattoirs - 17, rue de la Trouille, Mons
This post is also available in: French (français)