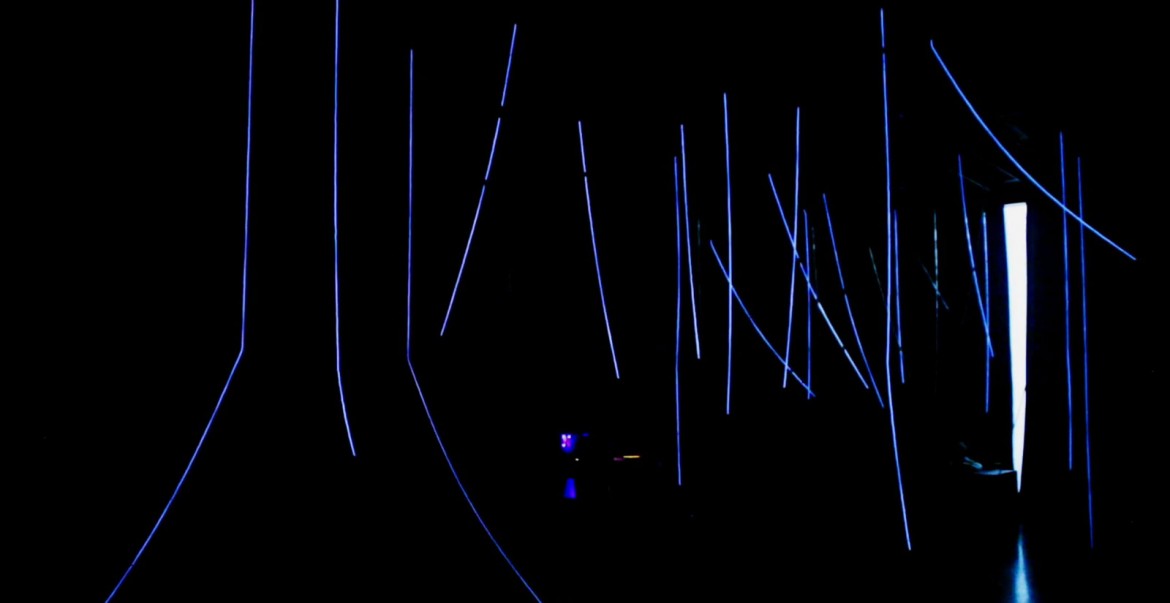 Sans titre - performance
opening : 11.09.2014
expo : 14 > 27.09 –
closed on Mondays
Anciens Abattoirs
20:00
12:00 > 18h00
Free entrance
Sans titre - performance
opening : 11.09.2014 – 20:00 expo : 12 > 27.09 – 12:00 > 18h00 (
closed on Mondays
) Anciens Abattoirs – Free entrance
Julien Poidevin (sound artist) and Zaki Jawhari (architect and audio-visual artist) aim at developing a luminous, sound-reactive scenography made with Lwire (electroluminescent wires) deploying in space, thus inviting visitors to conceive of it under a new, poetic perspective.
Lignes Sonores presents itself as a synesthetic research experimenting with new immersive visual forms in order to generate a new relationship between the audience and the performer.
The soundtrack of this piece was created from recordings made in Mons during their residency.
Zaki Jawhari
Graduated from nationale d'architecture de Nantes (DPLG). He realized "Urbandrone", a research on sensitive perception of an area. This research, as an approach aiming at enriching the architectural project, led him to experiment different mediums both based on sounds and imageries.
He naturally headed to numeric arts and the programmation on the library vvvv to elaborate new tools of understanding and transformation of his environment. His field of research is located at the crossroad of sound architecture and picture in motion, with a constant concern of the urban context where he takes action.
After 5 years spent at Digital Slave as member, several architectural projection projects and video and light installations, he restarted his project "Urbandrone" which became Urbandrone Design. At the crossroad of sound architecture and picture in motion, the studio Urbandrone Design explores a new environment in constant acceleration.
Julien Poidevin
Multimedia artist; he studied in Mons (BELGIUM) at ESAPV (visual plastic fine arts school). Then he worked in Nantes at the artistic laboratory Apo33. Cross-disciplinary artist, he works on devices which interrogate our relation between the body and the area through several ways of expression.
His creations explore and challenge our relation with space: the urban developments, technology, our relation to architecture, landscape… In his works, the sound aspect is not the main focus, but is rather a part of a whole, a game of multi-sensitive relations. In which way our sound environment influences our perception of space? In a world filled of sound signals, how could we rediscover the desire of listening?
In his projects, he is often focusing of the nature of sound: from it source to its reception, but also its power of reminder, its capacity to carry us away, to make us vibrate.
Anciens Abattoirs - 17, rue de la Trouille, Mons
This post is also available in: French (français)