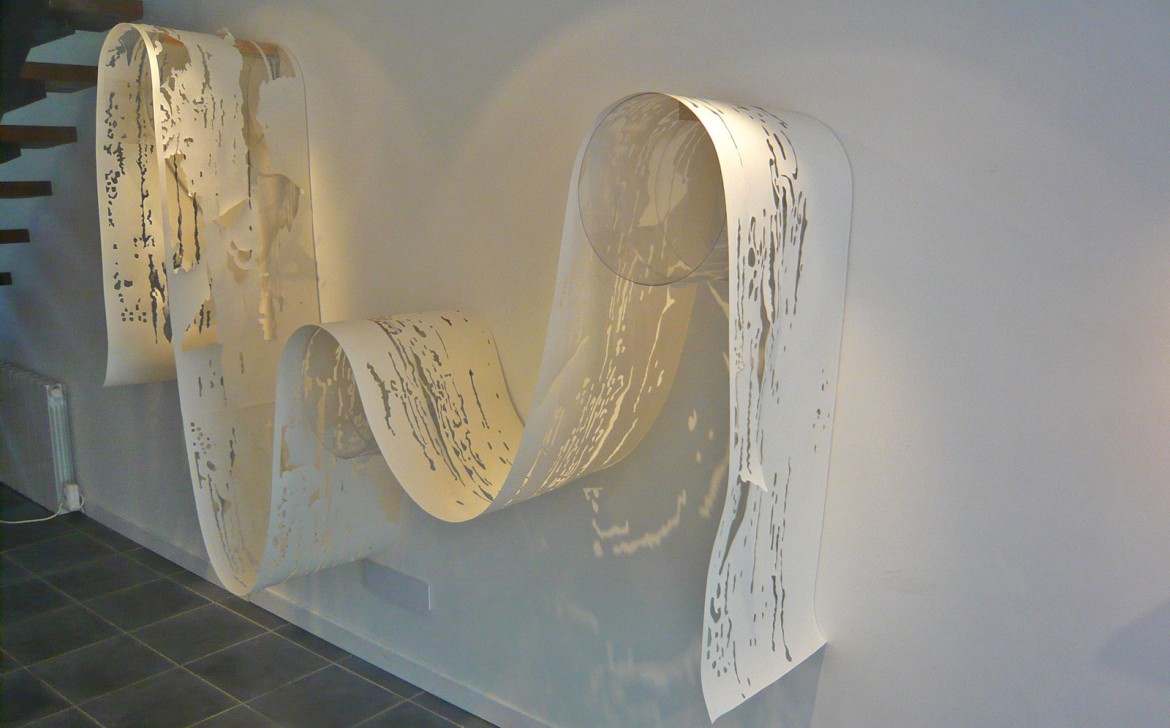 Fantômes + Eidesis partition subjective : conte de Fukushima 1 - installation + performance
opening : 11.09.2014
expo : 14 > 27.09 –
closed on Mondays
Anciens Abattoirs
20:00
12:00 > 18h00
Free entrance
Fantômes + Eidesis partition subjective : conte de Fukushima 1 - installation + performance
opening : 11.09.2014 – 20:00 expo : 12 > 27.09 – 12:00 > 18h00 (
closed on Mondays
) Anciens Abattoirs – Free entrance
The structure of Fantômes ("Ghosts") is evocative of that of a machine, and is made of simple construction materials. This scaffolding of sorts carries 30 meters of paper divided into two parts. While not the subject matter of this installation per se, the tsunami and subsequent Fukushima nuclear disaster are at the origin of the conception of this structure.
Its title is inspired by a technique consisting in emptying up a form, the remaining shell and inside matter being called "ghosts". The empty parts have been conceived from forms that were drawn and subsequently cut-up: from an image found on the web of the Fukushima plant after the catastrophe, shapes that were traced then emptied bring us to an abstraction of reality. From this projected image, the forms that constitute it were drawn in a dissociated manner, compromising the notion of a whole.
The open score that is Fantômes becomes a matrix of interpretations, its notation system being singularly defined by whoever finds him or herself interpreting these abstract writings. The only constraint in this interpretation is to take into account the notion of space in the recording distances, as well as the textures and intensities depending on the size of the shapes.
"eidesis: subjective score" is the project of interpretation of this installation, become graphic score. Interest is up in both the idea of a space, a work or some element may have a sound reality.
Matt Coco
Artist living in Lyon, Matt studied at the Ecole du Louvre in Paris and is a graduate of the Institute of Visual Arts of Orléans. Through installation, drawing, video and sound, she develops a cross-linked research fields anthropological, architectural, literary and memorial.
Her artwork is mainly a response and analysis of territories or areas through exhibitions, residencies in France and abroad, collaborations with artists from different disciplines but also sound creations footprints radio dramas. The construction of a story or possible memory, the dialectic between the work and the viewer, her artwork as meeting space and all possible, make it a changing world in constant evolution. Using simple materials belonging to methods of constructing models, museum classification, her work takes on different universes their language to create an ambiguity in the status of the work itself. Playing on the scale and permanent re -actualization works reports, her work constantly induces a perpetual search and fragility of existence.
Anciens Abattoirs - 17, rue de la Trouille, Mons
This post is also available in: French (français)