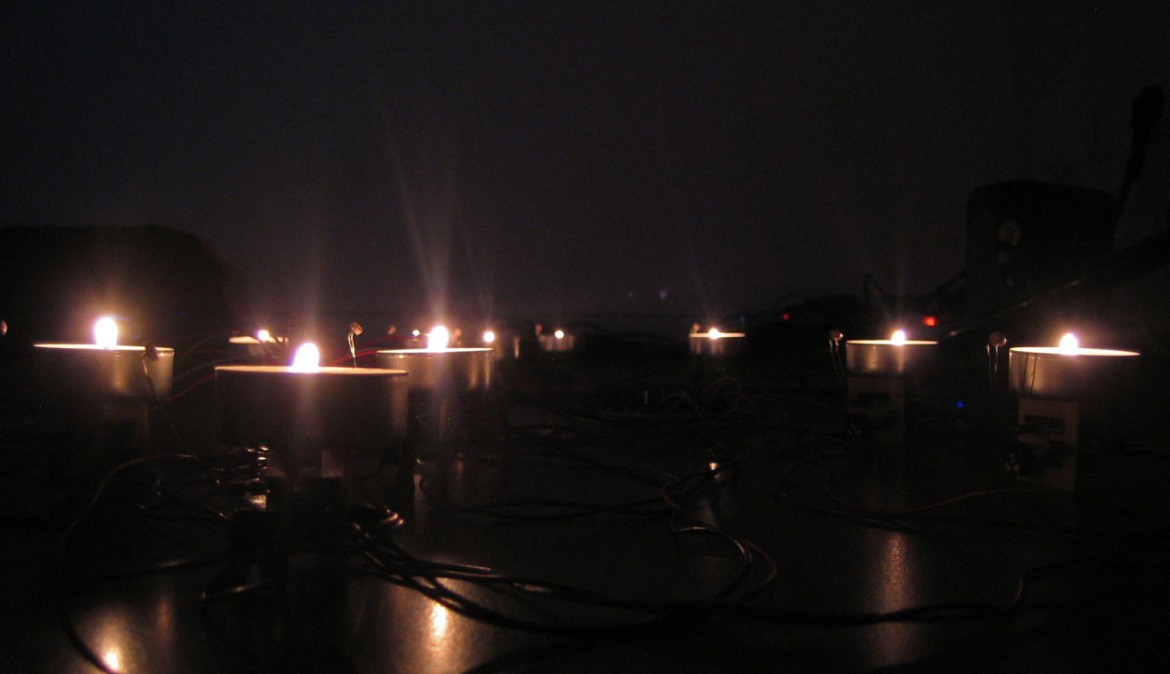 Let there be light - installation
opening : 11.09.2014
expo : 14 > 27.09 –
closed on Mondays
Anciens Abattoirs
20:00
12:00 > 18h00
Free entrance
Let there be light - installation
opening : 11.09.2014 – 20:00 expo : 12 > 27.09 – 12:00 > 18h00 (
closed on Mondays
) Anciens Abattoirs – Free entrance
A series of amplified candles are disposed in a circle, above the center of which is placed a light bulb. Various events sequenced in time will then disturb this setting: as the light present in the bulb gains in intensity as it is switched on, the sound created by the candles will reach higher notes in a crescendo. As the light bulb constitutes a stable source of light, it will temporarily "tune" the candles together in unison. The candles, however, are subject to variations in their environment such as the movement of the air in the room.
The timber chosen for the candle sounds, which in this context symbolize a human population, was chosen for its similarity with the human voice, the aim being to create a "choir of lights" awaiting a cyclical event of superior intensity. The simultaneous influence of light and air on the candles confers an ambient character to this installation.
Olivier Gain
Olivier's works put into situation objects from the commonplace to unusual angle of perception. Amplification or transposition of one of their features allows him to give concrete materiality to intangible processes or phenomena. All is about changing these elements from one perception field to another. Through these devices, his intention is to confront the audience to unusual events excluded from the real world or simply unreachable through our senses thanks to a work of transposition, or when changing the state or the space. In a way, his approach shares similarities with the way a transducer is functioning (for example, a speaker, which convert a data into another).
Moreover, the devices he proposes often relates to sound, which always has a direct relation with objects that consist of his installations. It is used to reveal and/or amplify information associated to the presented object: the sound allows to hear or to see the imperceptible. His projects required the participation and the cooperation to theoretical resources and diverse techniques. This motion between the fields of knowledge confers his realizations a resolutely hybrid nature.
—
FR
Park in progress / City Sonic
Anciens Abattoirs - 17, rue de la Trouille, Mons
This post is also available in: French (français)