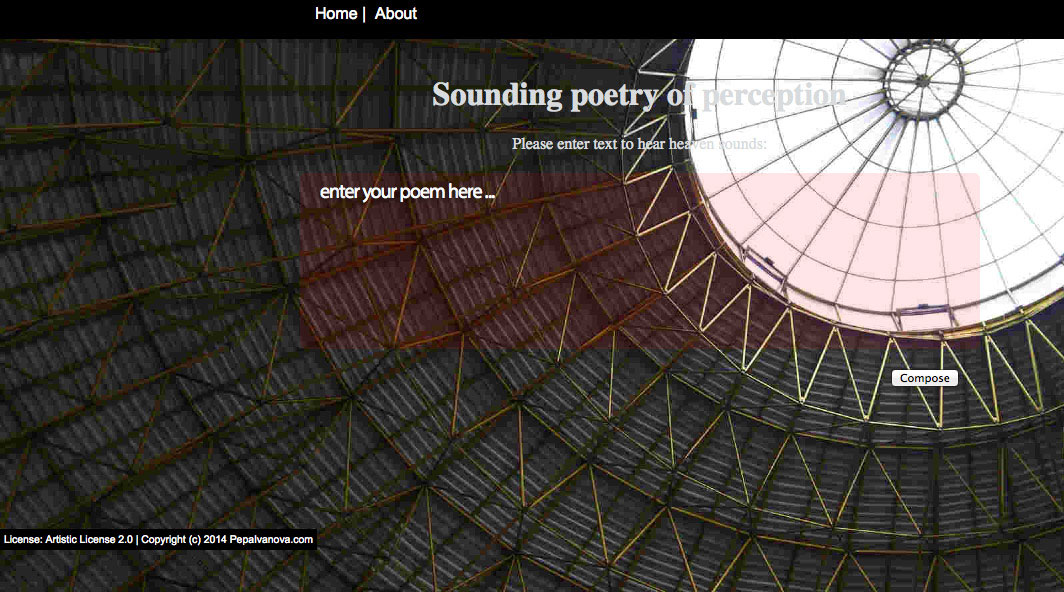 Souding poetry of perception - installation
opening : 11.09.2014
expo : 14 > 27.09 –
closed on Mondays
Anciens Abattoirs
20:00
12:00 > 18h00
Free entrance
Souding poetry of perception - installation
opening : 11.09.2014 – 20:00 expo : 12 > 27.09 – 12:00 > 18h00 (
closed on Mondays
) Anciens Abattoirs – Free entrance
To realize the projects, she utilizes whichever medium best suits the sensory illusion, resulting in a polytypic opus of material and immaterial objects she refers to as 'drawings on to reality'.
Owing to the transmedial quality of the work, she often engages in collaborations with programmers, electronics experts, psychologists, neuroscientists, and sound artists whose knowledge expands her insight into the phenomena, enabling her to fluidly combine different media to achieve surprising and often subliminal accents to our mundane experiences.
The works evoke a disturbance in the intuitive interpretation of the environment as three-dimensional shapes and sounds, which reminisce of human anatomy, geometry, architecture and urban soundscapes.
Pepa Ivanova
Pepa studied Porcelain and glass design in National Art Academy, Sofia. She holds a MA degree in Sculpture of Royal Academy of Fine Arts, Antwerpen and PhD MA in arts + media + design – Transmedia at Sint Lukas University, Brussels.
She is a visual and sound artist creating site-specific installations, light and sound walks, transient sculptures, and performed interventions into the public space. The focus of her work is illusion in its widest sense, through which she deconstructs the phenomenon of perception, bringing awareness to the discrepancies between our unprocessed sensory input and the mind-facilitated construction of our environment.
Pepa employs perceptual phenomena such as after-images, depth perception, spatial mapping and light contrast, in contexts, which provoke an initial disillusionment
Anciens Abattoirs - 17, rue de la Trouille, Mons
This post is also available in: French (français)