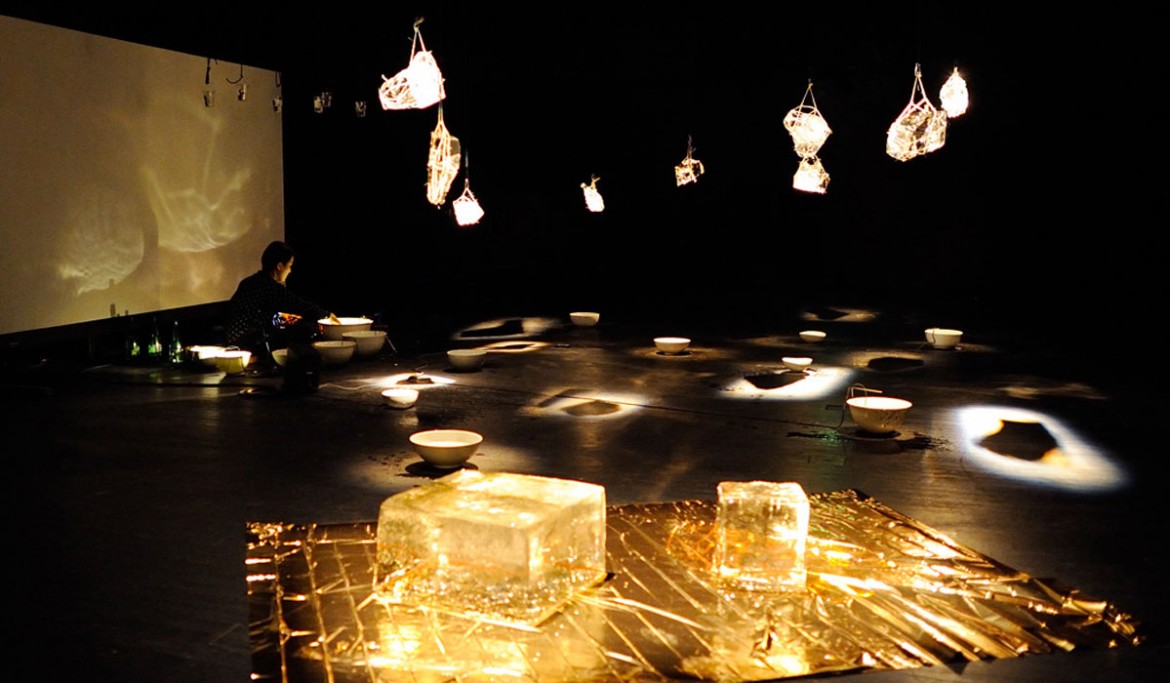 Experimental aquarium - performance + installation
opening : 11.09.2014
expo : 14 > 27.09 –
closed on Mondays
Anciens Abattoirs
20:00
12:00 > 18h00
Free entrance
Experimental aquarium - performance + installation
ouverture : 11.09.2014 – 20:00 expo : 12 > 27.09 – 12:00 > 18h00 (fermé les lundis) Anciens Abattoirs – Entrée libre
After several years of experimentation with water dishes amplified with hydrophones, Tomoko Sauvage keeps exploring the acoustic space in water with this site specific performance.
She takes interest in the phenomenon of sound filtration, when the pre-recorded sound is filtered and modified in water by air vibration, water and dishes that also produce the feedback. In the framework of the Park in progress residency on the site of the Mons ancient slaughterhouse, she experiments the acoustic of the place and the different sound frequencies she records on site (in air and water) during her residency.
The installation/performance also plays with the aleatory percussions of water drops falling on the ice blocks producing sounds, a system explored by the artist since 2010.
Tomoko Sauvage
Musician and Japanese sound artist settled in Paris, has been working for several years with 'waterbowls' associated with 'hydrophones' (underwater microphones), immersed into porcelain bowls, of different sizes, full of water.
She is interested in resonance, space and fragile sound material exploration such as water and porcelain. Her work gets real from concrete and varied forms: long length performances, sound installations, compositions with musical and choreographic collaborations.
She exhibited in Europe, United States, Canada and Japan. Her work is published at and/OAR (US), aposiopèse (BE), dokidoki editions (FR)… 
In 2011, she realized a new series of porcelain boawls during her residency at La Pommerie (FR), in collaboration with the CRAFT, a center of research in ceramics based in Limoges.
Anciens Abattoirs - 17, rue de la Trouille, Mons
This post is also available in: French (français)