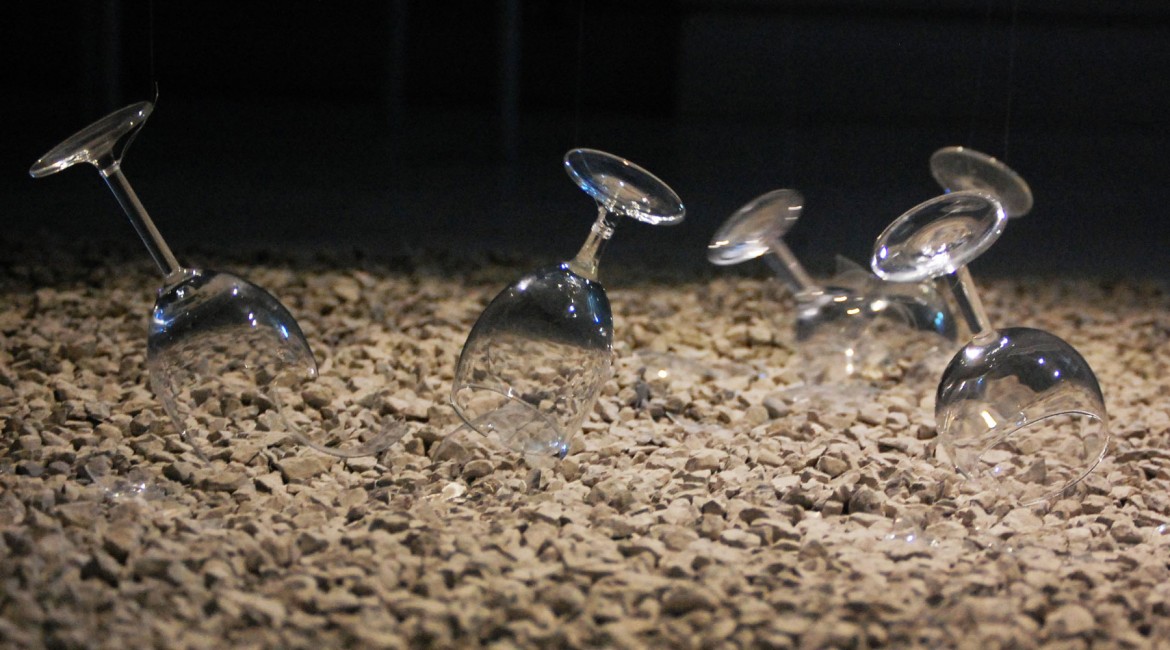 Six years ago - installation
ouverture : 11.09.2014
expo : 12 > 27.09 – fermé les lundis
Site Arbalestriers
18:30
12:00 > 18h00
Entrée libre
Six years ago - installation
ouverture : 11.09.2014 – 18:30 expo : 12 > 27.09 – 12:00 > 18h00 (fermé les lundis) Site Arbalestriers – Entrée libre
This sound-matter installation based on memory constitutes a mechanical choreography of broken glass. In it, one can see joy or drama, purity or chaos.
Whatever the case, fragility is key here, whether one thinks of fighting, dancing, zen gardens or accidents. The sound and plastic research conducted by this young artist from Mons led him to choose everyday life objects to set up an unusual ballet that tells a sensitive tale through clear and shy sounds.
The goal is to draw one's attention with the slowness and simplicity of a repetitive movement of random sounds created by the contact between the broken pieces of 32 stemmed glasses with gravel.
Vivian Barigand
Multidisciplinary Belgian artist, working in the sound and visual field participating to Festival City Sonic and other exhibitions/events curated by Transcultures since 2012, Vivian Barigand (Mons) was first known for his physical and media performances, and also for his minimalist installations and experimental videos.
Looking for simplicity and poetry, he is interested in the question of identity, and themes such as childhood, emptiness, sex, the everyday life, repetition, resistance…
Anciens Abattoirs - 17, rue de la Trouille, Mons
This post is also available in: French (français)