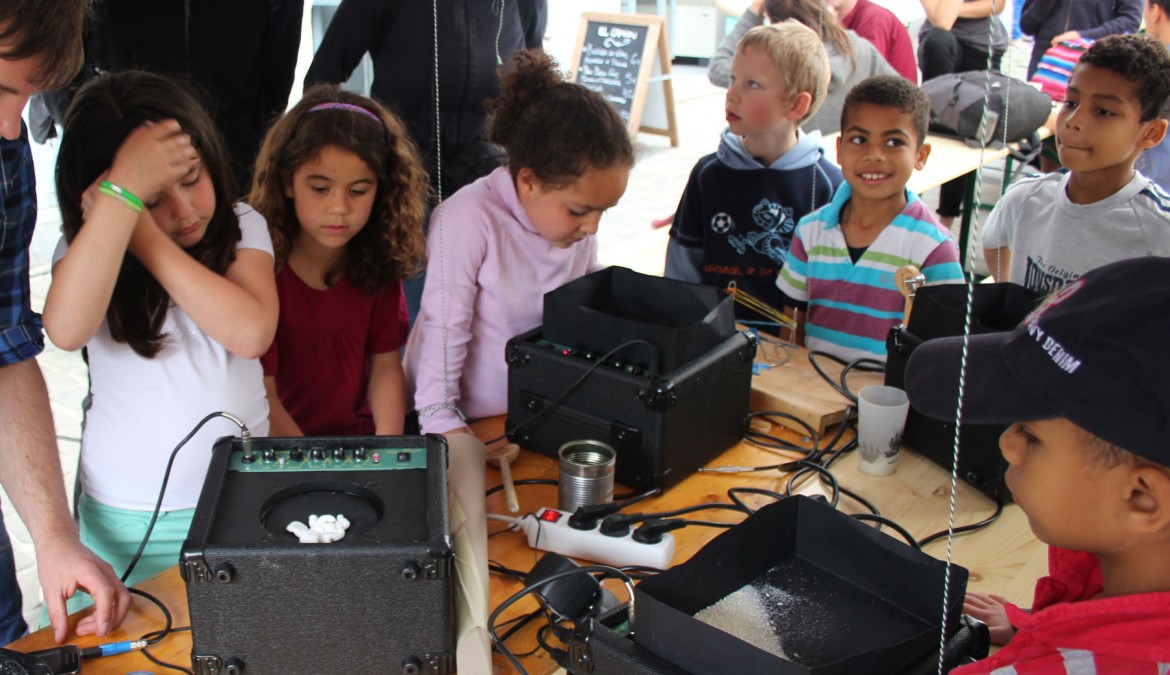 Sonic Kids - La maison haut-parleur
17.09 – 14>16:00
Anciens Abattoirs
Free –
Reservation required
obligatoire
Sonic Kids - La maison haut-parleur
17.09 – 14>16:00 Anciens Abattoirs Free –
Reservation required
La maison haut-parleur ("The speaker house") is a workshop in the context of which children learn to build their own sound speakers with everyday objects: plastic bottles, hairbrushes, cardboard boxes, sheets of paper or tree branches will become vibrating membranes which amplify sounds and modify the way we perceive them.
This fun and creative workshop is open to children of 8 years of age and older, and introduces them to amplification techniques. Building such an electronic device is surprisingly easy, and will allow them to understand how such universal object function, constituting one of their first hands-on approaches with sound and amplification.
Reservation required
+32(0)65 59 08 89
lucie.transcultures@gmail.com
Void Collective
Void is a visual sound art collective born in 2013 from Arnaud Eeckhout and Mauro Vitturini, based in Brussels.
Visual, sound artist but also musician, Arnaud Eeckhout (Be) develops a multidisciplinary practice combining installation, performance and video questioning the limits between sound, image and space.
His artistic practice is motivated by the constant questioning of our comprehension of the real and is developed through a sensory perception modified by events. His works follows the thin borders between what is perceptible and what is not, and the processes he develops intervene in the opposite view of this tenacious desire to explain, dissect and define reality. The main stake of his artistic practice is to operate new meetings to propose a hybrid reality that causes new relation to things. In this way, the audience is dived into the experience of realism, almost unfamiliar.
Mauro Vitturini's path, studying mathematics and physics but also arts and philosophy, led him to start research about how we perceive reality. Through sound, space interaction and uninterrupted researches on semantics, he highlights the unusual and underlines the traditional absolute certainties by raising new questions. His installations were previously presented in Rome (native city of the artist), Mons (City Sonic), Braine l'Alleud (Résonances)… With sound/visual Belgian artist Arnaud Eeckhout, he has recently initiated the Void collective.
Anciens Abattoirs - 17, rue de la Trouille, Mons
This post is also available in: French (français)