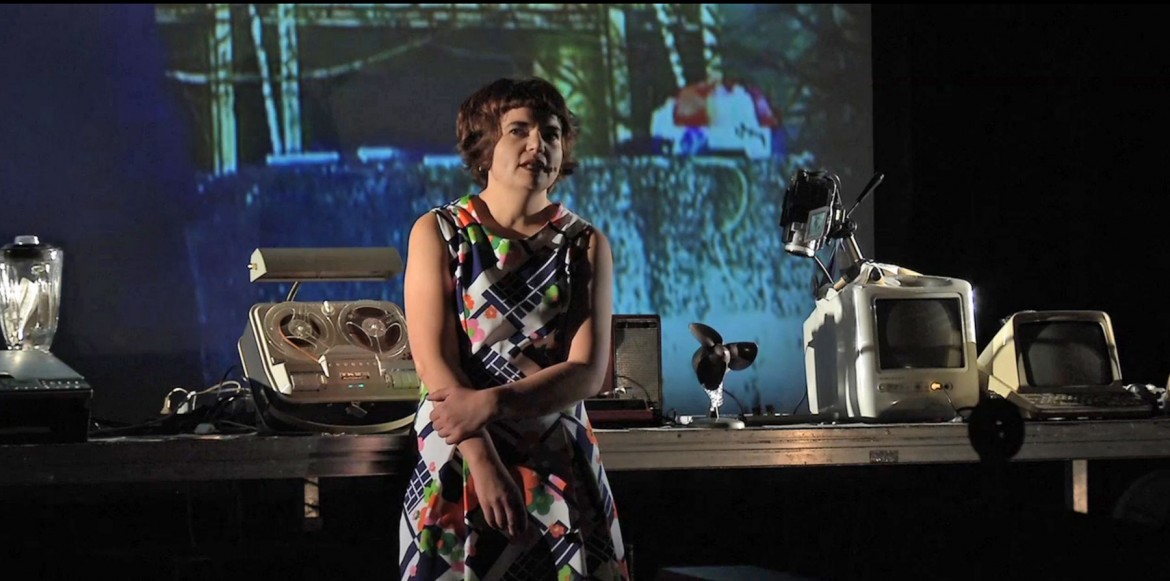 C2M1 - show + talk
24.09 – 20:00
Site des Arbalestriers
Free
C2M1 - spectacle + rencontre
24.09 – 20:00 Site des Arbalestriers Free
C2M1 is a "media performance" exploring written and coded communication, from the invention of writing to mobile phone texting by way of printing technologies.
The question raised by C2M1 is the following: what is the direct influence of new technologies on language?
In order to provide an answer, C2M1 is conceived around the presence of a screen as well as several technological devices featured on the stage, such as telephones, a tape recorder, an electrophone, etc.
On this stage, two performers (Siegfried Canto, musician, and Magali Desbazeille, visual artist), will make a point of using these communication devices in unexpected ways: the musician will use them as tools for musical improvisation, while the artist will see them as sources of real or fictional memories, belonging to humanity as a whole or herself alone…
History blends in the present while we try to envision a future, as obsolete technologies curiously compare to new means of communication.
These sound tools are gradually given control over the performers' observations, hypotheses and fictions, until they become autonomous and automated.
Conception and performance: Siegfried Canto and Magali Desbazeille. Dramaturgy: Julie Valero. Associated scientist : Pierre-Yves Oudeyer. Graphism : Mikhail Margolis. Light and special effects : Fabrice Blaise. Production and diffusion : Vanessa Vallée.
Delegated production : Cie ASAP. Co-producers : Ars numérica from Montbéliard, the RAN-Réseau Arts Numériques with l'Espace Mendes France/le Lieu Multiple, le Centre des Arts d'Enghien, l'Ososphère/Quatre4.0, Transcultures and with the help of the model and the production of Dicream. Partners : L'Atheneum, le Théâtre paris-villette and the associated premises of Arcadi, La Ferme du Buisson, national stage of Marne La Vallée.
Diffusion presented in the framework of Espace(s) Son(s) Hainaut(s), platform for innovative music, a project supported by European funding Interreg IV Vlanderen-France-Wallonie.
Magali Desbazeille
an interdisciplinary artist with a visual arts background who lives and works in Montreuil. She studied in the School of Fine Arts in Paris and at Le Fresnoy, national studio of contemporary arts (Tourcoing).
Her realizations cross several disciplines: performance, video installation, interactive installation, net art, contemporary dance. She collaborated with choreographers Meg Stuart, François Raffinot and Marion Levy.
She was also commissioned in the framework of the 1% artistic for a creation for the secondary school of Leforest in Pas-de-Calais. She has created the company ASAP with Siegfried Canto. They have been working together for the last 10 years.
Siegfried Canto
After his music studies at the CNR of Paris (National Conservatory), Siegfried chose to work as a composer. Interested in new technologies, he joined training at IRCAM and GRM (both are French institutes for science about music and sound and avant-garde electro-acoustical art music).
Since the 90s, he uses these tools for his music artworks, and opens his works to visual and writing arts. He conceived and realized his own multidisciplinary shows (Stories, Trash vortex…), but also composed for live performances.
Regularly, he composes music for videos from art documentary (Alain Fleischer, série Docu design d'Arte,…) to cinema. He created the ASAP company with Magali Desbazeille.
Salle des Arbalestriers - Site des Arbalestriers - 1, Rue du Gouvernement - 7000 Mons
This post is also available in: French (français)