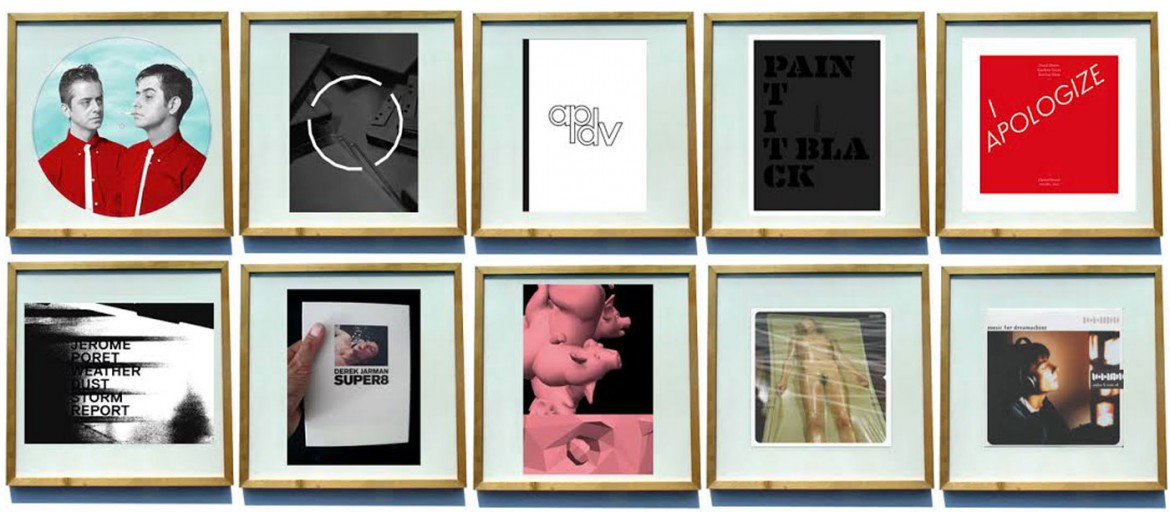 Optical Sound Window - installation
ouverture : 11.09.2014
expo : 12 > 27.09 – except Mondays
7m3 – Médiathèque du manège.mons
20:00
12:00 > 18h00
Gratuit
Optical Sound Window - installation
ouverture : 11.09.2014 – 18:30 expo : 12 > 27.09 – 12:00 > 18h00 (except Mondays) 7m3 – Médiathèque du manège.mons
When invited by City Sonic to design the window of Mons Mediatheque gallery (7m3) display as he saw fit, art director and artist Pierre Belouïn essentially chose to present the content of the two Optical Sound magazines (the second issue of which comes out this September) as well as various printed materials, while through the glass the Music For Death (from circle to square) limited vinyl compilation plays continuously.
This compilation was distributed alongside the first issue of the finely printed Optical Sound, and features works by Baron Oufo, Beau Delay, Black Sifichi, Cercueil, Cocoon, Coil, Gérôme Nox, norscq, Rainier Lericolais & M-o-r-s-e, Robert Hampson & Sébastien Roux, Paradise Now & Gerard Malanga, Scanner, Simon Fisher Turner, That Summer & Tsé, Christian Vialard.
Partage d'écoute #1
18.09 – 18:00
Médiathèque du manège.mons
Gratuit
Partage d'écoute #1
18.09 – 18:00 Médiathèque du manège.mons Gratuit
Launched during the previous edition of the City Sonic festival, these shared listening sessions are meetings with professionals from the music world (musicians, critics, artists, curators…) who spend about an hour sharing their passion for music as well as sound art practices and commenting on chosen excerpts.
For this first City Sonic 2014 "Partage d'écoute" ("shared listening session") Pierre Beloüin (artist/producer/art director) is invited to share both his love of music sound adventures, from the 80s till today, through soundscapes inhabited by his great musical sensitivity.
The metting will be also the perfect occasion to launch the second issue of the Optical Sound magazine, which will be presented by Pierre Beloüin. A mix of selected tunes by the label head will follow.
And dont forget the Optical Sound Window (see above).
Pierre Beloüin
Pierre Beloüin created the Optical Sound label in 1997 after meeting Rainier Lericolais and Olivier Huz. Optical Sound sees itself as a home for both visual artists seeking to explore the possibilities of sound and musicians interested in visual arts. The name itself is a direct reference to cinema and its optical sound track, which can be associated to mental images generated by sound. Through this label Pierre aims at sharing his personalized listening experience characterized by his love of adventurous music from the 80's onwards, but also by his experiences as producer and independent label owner. The Mons multimedia library will host the launching of the second issue of the Optical Sound magazine, which will be presented by Pierre Beloüin. A DJ set of selected tunes by the label head will follow. For the duration of the whole festival the media library's window display will also showcase a collection of objects, artworks and archives linked both to the label and the magazine.
Pierre Beloüin (Fr)'s work fits precisely into the niche of artists who learned everything or so about music experience. But it's not only because his most famous avatar is the one of the one-man band, neither because he has been busy over the last 10 years running the label Optical Sound, or not even due to his entrance in the artistic world through music, working straightaway at the border of visual and sound, since the beginning of his studies at the National School of Fine Arts in Paris. It's mainly because his work and his activities are settled into underground culture, historically linked to music. As an expert and a fan, he multiplies the tributes, to Gysin and Burroughs, to the 50's fetishism, to psychobilly, to eroticism in the 70's, to industrial music, and to cold wave, to B movies or the universe of freaks.
Médiathèque - Îlot de la Grand'Place - 24, Rue de la Seuwe - 7000 Mons
This post is also available in: French (français)