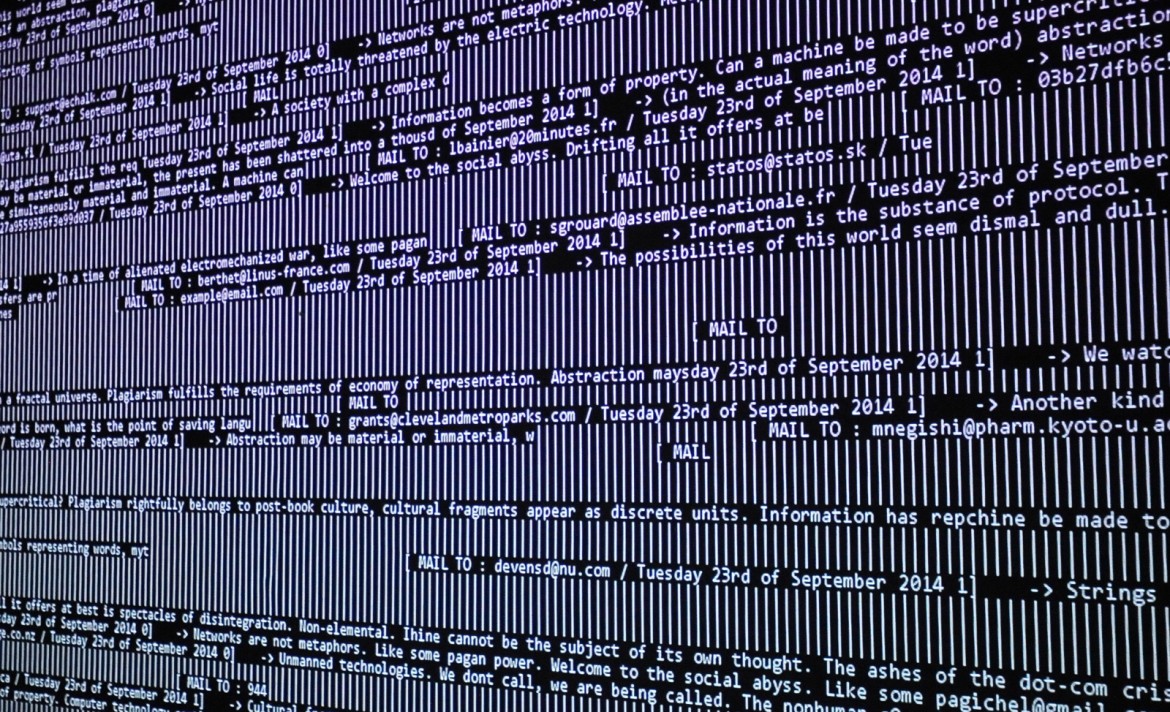 Threads - Installation
27.09 > 16.10 – 12 > 18:00
Arts2, Carré des Arts
Free – closed Sat. & Sun.
Threads - Installation
27.09 > 16.10 – 12 > 18:00 Arts2, Carré des Arts Free – closed Sat. & Sun.
In the context of computer science, Threads may refer to a sequence of programmed instructions that are the components of a process, as well as all the messages relevant to a particular topic on a message board, or just about any online discussion. Threads, as a project, was conceived at Transcultures, Mons, as part of a European program of residencies for young artists. Its aim is to elaborate a generative fictional zone that uses networks as spaces of existence and proliferation.
A number of bots are coordinated to one another and linked to a series of data feeds from new sites or social networks, which are consequently used both as a source for information and as a means of redistributing it. These bots are plugged into feeds relative to the city of Mons (RSS feeds, new sites, social networks users located in the city, etc.) so as to contextualize the content thus generated and redistributed.
The messages obtained are automatically composed according to principles of generative semantics, and may take the form of comments, fictional conversations or crypted messages. In the end, such coordination progressively gives way to a kind of ever-flowing, unstable and experimental netherworld that mirrors the information overdose arising –among other things- from the stream-era Internet.
The fictious community created by the bots constitutes a sort of liquid architecture with multiple ramifications and brings to mind the modes of structuration Hakim Bey describes in his Temporary Autonomous Zone (TAZ).
Production: Transcultures, in the frame of European Pépinières for young artists in Mons.
Fabien Zocco
Fabien's artistic approach, interrogates the notions of time, space and writing during these times of technological omnipresence that characterizes our contemporary world.
His realizations generally express different elements (dataflow in network, sounds, texts, electronic devices…), used as many materials specific to generate forms and processes dedicated to the undefined.
He creates artworks which develop themselves in an autonomous way, in the course of temporal lines without beginning or ending. They establish spaces which deal with human and machine, concrete and virtual, memory and immediacy, form and information.
Arts2, Carré des Arts - 4a, rue des Sœurs noires - 7000 Mons
This post is also available in: French (français)