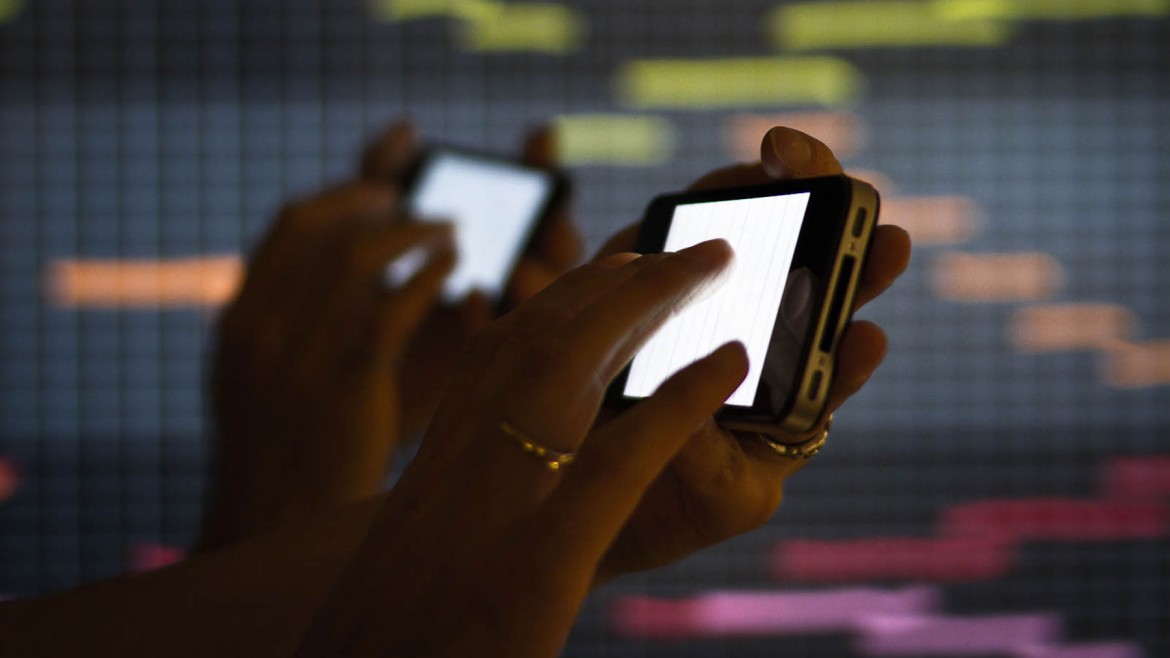 Say Aaaaah! - Installation
27.09 > 16.10 – 12 > 18:00
Arts2, Carré des Arts
Free – closed Sat. & Sun.
Say Aaaaah! - Installation
27.09 > 16.10 – 12 > 18:00 Arts2, Carré des Arts Free – closed Sat. & Sun.
Following Chorus, an installation presented during City Sonic 2012 and Ars Musica 2013, and which allowed one to create a digital choir with mobile phones, Nicolas d'Alessandro wanted to take things one step further by connecting various places and times together in this vocal experiment.
Here the central concept is memory and the ability to meet passing performers (whether they be simple visitors or confirmed artists) outside of our common understanding of space and time.
Forecasting a Mons 2015 project titled Voix des Anges ("Angel Voices"), which will see this idea applied to the whole city, Say Aaaaah! tries to make a playful use of articifial voice and the sense of abstraction it permits. It then becomes a social and societal tool allowing for both the anonymity of a cry as well as a heightened sense of intimacy.
Nicolas D'Alessandro
Nicolas obtained his PhD in Applied Sciences from the University of Mons in 2009. From a lifelong interest in musical instruments and his acquired taste in speech and singing processing, he incrementally shapes a research topic that aims at using gestural control of sound in order to gain insights in speech and singing production.
Therefore his interventions on stage always gather an interdisciplinary research side, taking its roots in human cognition and voice production. Starting in 2003, with the development of the MaxMBROLA object, nowadays widely used in digital arts. In 2004, he moved to Montreal for an internship with Prof. Caroline Traube that brought a Master thesis exploring similarities between voice and guitar timbres. He went back in Belgium working with Prof. Thierry Dutoit for a PhD at the University of Mons, where he had the chance to collaborate with many other great speech and singing specialists such as Profs. Baris Bozkurt, Christophe d'Alessandro, Boris Doval and Yannis Stylianou.
Late 2009, he moved to Canada again, to take a postdoc position with Prof. Sidney Fels at the MAGIC Lab, University of British Columbia, Vancouver, where he worked on the DiVA project. There he also organized the first p3s workshop. Since December 2011, he is back in the University of Mons and leads MAGE, HandSketch and ChoirMob projects. He also collaborated with Jean-Paul Dessy (cello, New Music) for the performance Metastasi#2 premiered at Festival City Sonic in 2012.
Arts2, Carré des Arts - 4a, rue des Sœurs noires - 7000 Mons
This post is also available in: French (français)