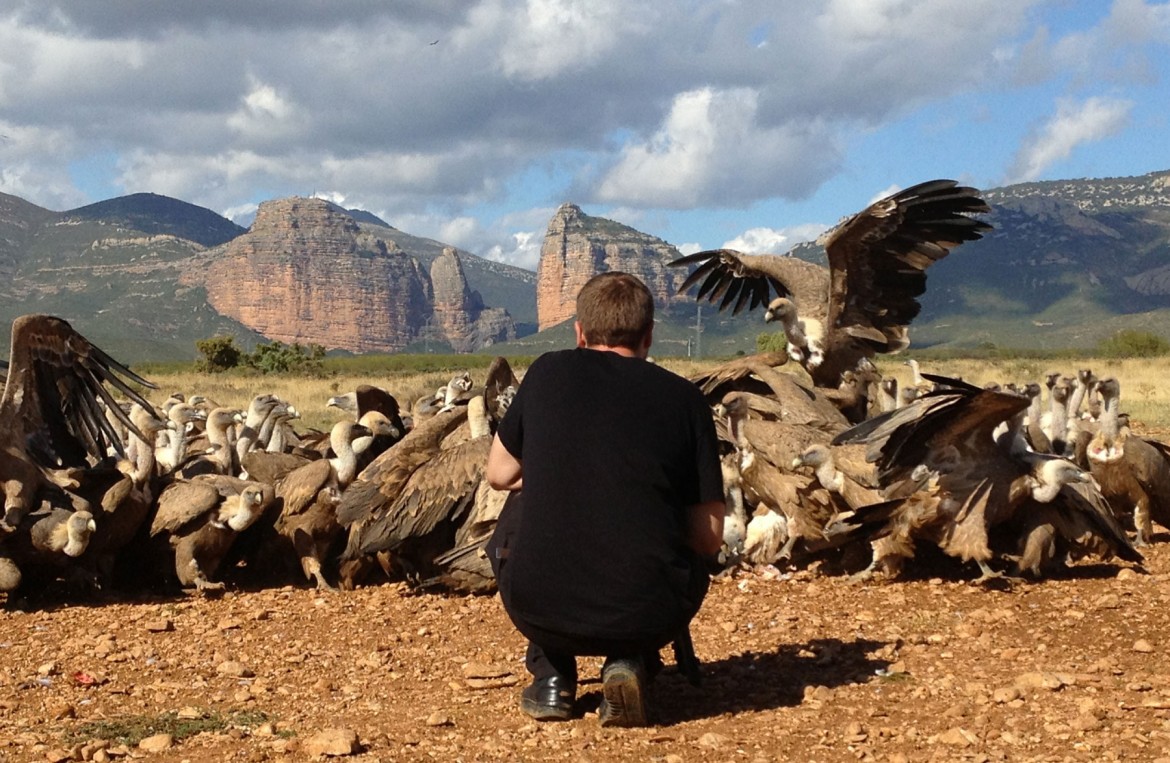 Strange meeting in an empty space - video
opening : 11.09.2014
expo : 14 > 27.09 –
closed on Mondays
Anciens Abattoirs
20:00
12:00 > 18h00
Free entrance
Strange meeting in an empty space - video
opening : 11.09.2014 – 20:00 expo : 12 > 27.09 – 12:00 > 18h00 (
closed on Mondays
) Anciens Abattoirs – Free entrance
In the frame of the Ordesa National Park, Stéphane Kozik and Julia Hadi who participated in Park in progress meet a dozen artists from Spain and Europe during the Periferias the festival as an amplifier.
Stéphane Kozik ventures into an area where the vultures gather, installs sensors and cameras to imagine a performance with Julia Hadi. Specialist sound design made from in situ recordings, Stéphane Kozik confronts the wild and disturbing nature of this gathering of 500 vultures to discuss the myths that this bird vehicle.
A unique time of experimentation and exchange for this special edition of Park in progress, whose productions have been made in the context of Periferias, dedicated this year to the them of 'the horror'.
Zaki Jawhari
Multimedia, sound and visual artist, musician graduated from Arts², Stéphane Kozik mainly works on interactive installations, audio-visual and musical performances…
His approach intends to be multidisciplinary, sensitive, sensory, poetic and playful. He is the co-founder of multimedia collective Livescape and of the duet Digital Breakfast (with Arnaud Eeckhout).
He also follows a career as electronic music musician and collaborates with Hungarian dancers Julia Hadi and Virag Arany, also with Damien Peron for the project 'Bodyscape' (laureate of European project Park in progress exhibited in Mons during City Sonic festival in 2013).
Julien Poidevin
Julia comes from several schools: Musical School (where she was taught the flute), classical dance School and the contemporary dance Academy of Budapest.
She is part of a collective with four Hungarian artists like Andras Juhasz, laureate of Park in progress Saint Cloud, Nottingham and Pannonhalma.
Together, they produce unique and astonishing interdisciplinary shows, in which space is comprehened. Through a system of audiovisual recording live broadcasted, she uses sound as a projection of her movements to invade and extend space.
Anciens Abattoirs - 17, rue de la Trouille, Mons
This post is also available in: French (français)