Press realease
For its twelfth edition, the Sound Arts international festival City Sonic launched in 2003 by Transcultures, Center for digital and sound cultures, in co-production with manège.mons, will exclusively focus on sound emergences, inviting young Belgian and international creators to artistic residencies who will then be broadcasted from Mons on for the first time.
As for the previous edition, City Sonic features the European project Park in progress. Initiated by European Pépinières for young artists, this project is a nomadic innovative event (which will also take place with other artists in Cyprus, Luxemburg and Spain from October to December 2014) that promotes mobility and encounter between interdisciplinary creators; two dozen interdisciplinary artists from Belgium, Japan, France, UK, Czech Republic, Turkey … working on sound material in different ways, will be welcomed for artistic residencies on the former slaughterhouse site where Transcultures is located in Mons to present on Thursday, September 11th at 8:30 p.m, a European Night of the young creation for the opening of the festival, a program of short creations (performances, installations, projections) resulting from a one-week residency. These conceptions will then be shown until the end of the festival in the Grande Halle des Abattoirs and set the content of the Sounds in progress# 2 exhibition.
On the Arbalestriers site, the work of the winners of the call for proposals of Espace(s) Son(s) Hainaut(s) (platform for innovative music linking the Belgian and French Hainaut regions) initiated by the le manège.mons, Art Zoyd and Le Phénix (Valenciennes where these installations will also be exhibited in October), as well as a selection of installation projects from the Visual Arts School and Music/theatre Conservatory of Mons Arts2 and the Visual Arts School of Brussels ESA Saint-Luc, resulting from workshops led by City Sonic artists throughout the year.
The artworks from the Park in progress, European nigth of the young creation, will be shown until the end of the festival, in the Grande Halle of the Anciens Abattoirs and will make up the exhibition "Sound in progress #2".
13:00 - Round Table Park in progress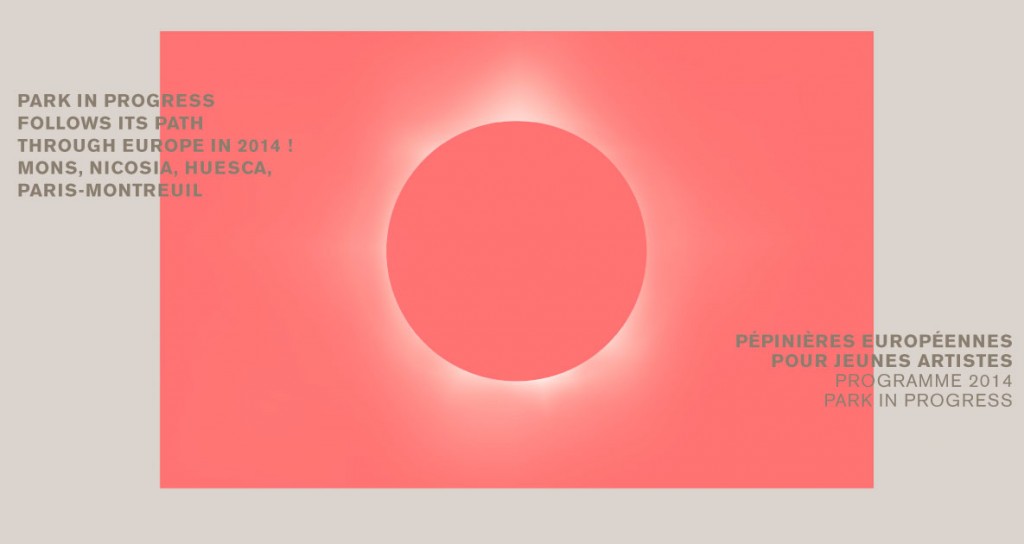 On the occasion of the Park in progress@Mons, the organisers proposed a roundtable and exchange of experiences on issues related to contemporary interdisciplinary site specific creation, artistic residencies and mobility for the cultural practices, projects and artists in Europe today.
With the participation of Patrice Bonnaffé (Director of Pépinières européennes pour jeunes aristes, initiator Park in progress), LászlóHudi(Flórián Műhely-Budapest, organiser of Park in progress@Pannonhalma), Philippe Franck (curator of City Sonic, organiser of Park in progress @ Mons) and artists selected for Park in progress#10@Mons.
+ drink/sandwiches offerts/offered
Park in progress@Mons 2013
Site of the Anciens Abattoirs - 17, Rue de la Trouille - 7000 Mons
18:30 - Guided tour of the sound itinerary in the presence of the artists
An allegory of a life in space and time, in which we move, play, hope and believe, until our…
Site of the Arbalestriers - 1, Rue du Gouvernement - 7000 Mons
20:00 - Opening Park in progress, Nuit européenne de la jeune création
A sound artist, a dancer, sensors, cameras … and 500 vultures. The trace of a unique performance…

An allegory of a life in space and time, in which we move, play, hope and believe, until our…

Of the Juxtaposition of multiple manifestations of movement in the city emerges a cinematic portrait of contemporary life in…

After several years of experimentation with water dishes amplified with hydrophones, Tomoko keeps exploring the acoustic space in water…

Placing his ear or his body against the trunk of the tree, the public can hear and feel organic…

Tether explore how the natural world can become accentuated through the addition of electronic based sound design.

To realize the projects, she utilizes whichever medium best suits the sensory illusion, resulting in a polytypic opus of…

A series of amplified candles are disposed in a circle, above the center of which is placed a light…

The structure of Fantômes ("Ghosts") is evocative of that of a machine, and is made of simple construction materials…

Hasard pendulaire # is a series of sound and sculptural installations conceived in harmony with the exhibition space. They…

Immobility is a sound performance based on enhanced tape cassette decks using various electro-acoustic sound sources…

The space of an old slaughterhouse gives the idea of pens for herd animals. Aren't also our heroes prisoners…

Lignes Sonores presents itself as a synesthetic research experimenting with new immersive visual forms in order to generate a…

Both Jason Van Gulick and Anna Gaïotti have a field of their own, and, each in their own way,…

Bodies on communication· the word us a schema. Is it enough to listen and to see, in order to…

Artwork in connection with the city of Mons for Park in progress @ Mons + electro AV performance for…

A research project on sound, vibration, music… felt by the body (« tactile sound »).

A wild dance of car horns and engines, children laughing and birds chirping then takes place, taking visitors to…
Site of the Anciens Abattoirs - 17, Rue de la Trouille - 7000 Mons
23:30 - City Sonic Party
Artwork in connection with the city of Mons for Park in progress @ Mons + electro AV performance for…

Snooba (Radio Panik-Brussels) shakes multiple influences, from which results a cocktail as organic as infectious.
Bateau Ivre - 1, rue de Nimy - 7000 Mons