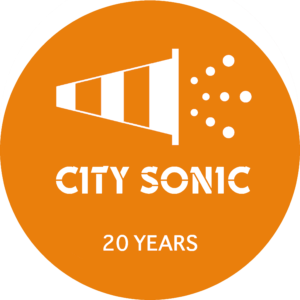 In the Summer 2003, Transcultures launched the international sound arts festival City Sonic in Mons, which quickly became a benchmark in these expanding fields.
It has since traveled to other cities throughout the Federation Wallonia-Brussels Federation (Charleroi/Hainaut, Louvain-La-Neuve/Walloon Brabant, Brussels, etc.) and has presented internationally numerous artists supported (France, Spain, Romania, Lithuania, Canada, Tunisia, Morocco, Taiwan…).
In total, to date, more than 1,200 projects – for the most part creations – have been presented in this pioneering event, which became biennial in 2019, which continues both to support young talents and to recall the contribution of the pioneers of the sound arts, in their great diversity.
For this twentieth anniversary, City Sonic, always attentive to creative singularities, has become a sound constellation by deploying – with the City Sonic – 20 years' label – in several cities of the Federation Wallonia-Brussels (as well as strong international collaborations) and events in connection with many partners.
Several audio/web/paper publications are also several audio, web, paper and hybrid publications are also planned in this special context.